We officially launched in February 2010. We specialize in creating effective, elegant, and professional WordPress websites for small business owners.
A website often serves as the central hub for a business' marketing efforts, which includes social media, online marketing, and offline marketing efforts. We understand that.
Our goal is to help our clients enhance their online image, promote their online brand, and help them grow their business.
Why we are different…
Our philosophy and approach to developing websites for our clients make us stand out.
We focus on your business goals and needs
Our commitment to you is to develop a website that complements your offline efforts and help you accomplish your business goals. We listen to your needs and focus on your goals to create a website that can help you grow your business.
We keep things simple and straightforward
Website design and development may seem a bit overwhelming. We will break every thing down, simplify the entire process for you, and help you through every step of the way.
We offer a cost-effective and affordable quality
No need to spend a ton of money for a fantastic website. We will develop a complete high-quality website for you at an affordable rate.
We're friendly and keep things simple and fun
We enjoy what we do (interacting with our clients, helping them, producing high quality work, etc.), and it shows! We are very friendly, laid back, and down-to-earth. We can be geeky, but we keep things simple and fun.
Who we are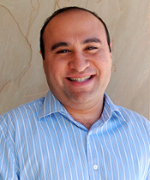 Hello. My name is Sherif Morgan. I am the founder and operator of Connexins.
My journey with creating websites started during the summer after my freshman year in college back in 1999, when I decided to teach myself HTML.
On August 1st, 2006, I purchased my very first domain: Connexins.com (next time you see me, ask me what "connexins" means), which I used as the stage on which I can practice developing and marketing websites.
In 2010, I decided to focus on helping businesses and professionals by creating effective and affordable websites. When working with my clients, I tap into my experience in marketing websites (that I learned from 2006 to 2010) to develop websites that help them achieve their professional and business goals.
Our goal is to develop a life-long business relationship with each of our clients. We keep keep things simple and straightforward. We are honest, upfront, friendly, laid back, and down-to-earth. In the interest of full disclosure, we can be geeky at times 🙂 Above all, though, we always keep things simple and fun.
In addition to web design and development, I am also a post-doc in cancer research at the University of Arizona. I received my Ph.D. in 2009. Yes, it is true… my geekness is multi-faceted.
If you need a website or if you need consultation about your website planning, design, or development, please let me know.
I look forward to working with you.
Sincerely,
Sherif S. Morgan, Ph.D.
Let's become friends